There's nothing quite like firing up the grill and cooking a delicious meal outdoors. Whether you're a seasoned pro or just starting out, these essential grilling accessories will help take your BBQ game to the next level this season. From handy utensils to flavorful marinades, get ready to cook up some amazing recipes!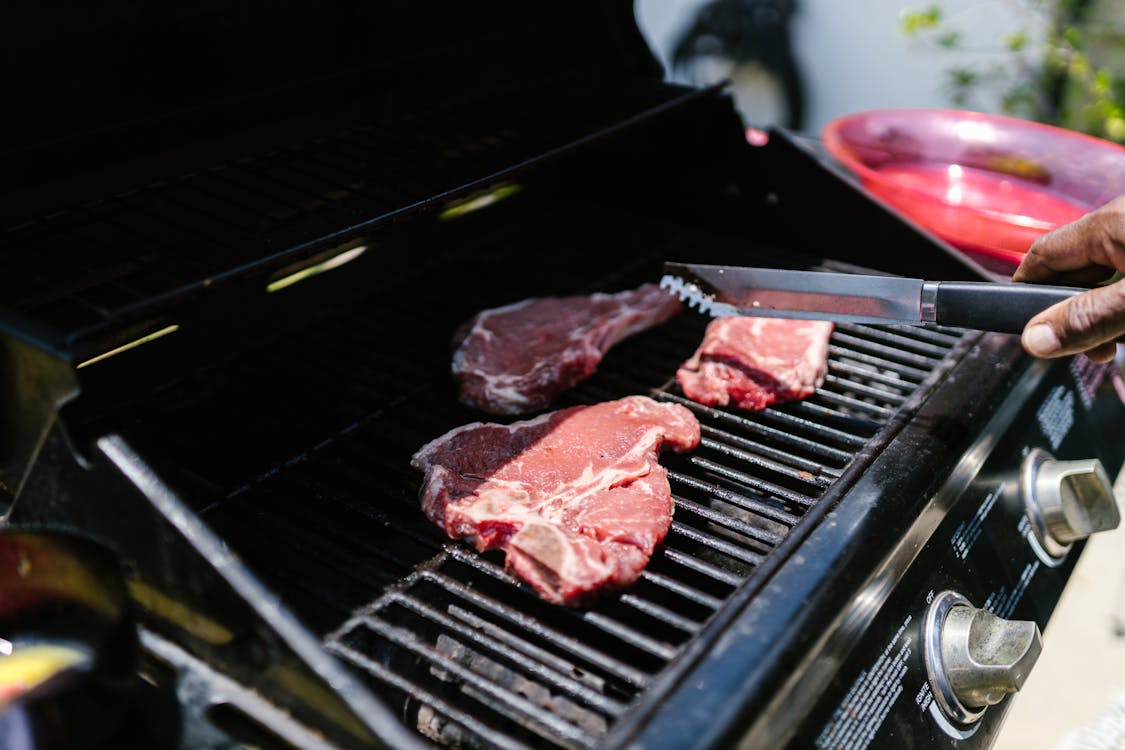 1. Grill spatula
A grill spatula is one of the most important accessories for any griller, whether you're cooking over charcoal or gas. A good spatula will have a long, heat-resistant handle so you can flip burgers and other grilled items without getting too close to the flames. The blade should be wide enough to comfortably turn multiple burgers at once, and it should be made of a material that won't scratch your grill grates. Finally, look for a spatula with a built-in bottle opener – after all, what's grilling without a few cold beers? With these features in mind, you'll be sure to find the perfect grill spatula for your next cookout.
2. Grill tongs
When it comes to grilling, there are a few essential accessories that every grill master should have. A good set of tongs is one of them. Tongs are versatile and can be used for a variety of tasks, from flipping burgers to turning chicken breasts. They also come in handy for removing food from the grill, so you don't have to touch it with your hands. When choosing a set of tongs, look for one that is made of durable stainless steel and has an ergonomic handle. This will ensure that your tongs will last for many grilling seasons to come.
3. Grill brush
For anyone who enjoys cooking outdoors, a grill brush is an essential piece of equipment. A good grill brush will help to remove debris and residue from the cooking surface, keeping the grill clean and ensuring that food tastes fresh and delicious. In addition, a grill brush can also help to prolong the life of the grill by preventing rust and corrosion. When choosing a grill brush, it is important to select one with sturdy bristles that will not fall out easily. In addition, look for a brush with a comfortable handle that will provide a good grip. With proper care, a good grill brush can last for many years and make outdoor grilling easier and more enjoyable.
4. Grill cleaning supplies
Any grill master knows that the key to success is in preparation. That's why having the right grill cleaning supplies on hand is essential for anyone who wants to master the art of grilling. A good quality grill brush is a must-have for quickly and easily removing debris from the grill grates. In addition, a putty knife can be used to scrape off any stubborn bits of food. And while paper towels are always handy for wiping up messes, a roll of aluminum foil can also be used to line the grill before cooking, making cleanup a breeze. With the right grill cleaning supplies, anyone can be a Grill Master!
5. Grill skewers
When it comes to grilling, few tools are more indispensable than grill skewers. These handy accessories allow you to quickly and easily thread chunks of meat, veggies, or shrimp onto long, slender rods. This makes it easy to quickly cook up a wide variety of mouthwatering dishes right on the grill, ensuring that your meals are not only fast and easy to prepare but also packed with flavor. What's more, with so many different sizes and designs available, there is sure to be a set that perfectly fits your needs and budget. Whether you're looking for plain wooden skewers for low-cost versatility or sturdy stainless steel skewers that can take the heat without melting or bending, there is sure to be a set of grill skewers perfect for all of your grilling needs. So why wait? Grab a set today and start enjoying the convenience and delicious taste of grilled food year-round!
6. Grill mitts
Any experienced griller knows that having the right accessories can make all the difference. From tongs and thermometers to spice rubs and sauces, there are a lot of different products on the market designed to make grilling easier and more fun. However, one of the most essential grilling accessories is also one of the simplest: grill mitts. Grill mitts provide a barrier between your hands and the hot surface of the grill, making it possible to flip burgers and turn chicken without getting burned. In addition, they can also be used to remove hot food from the grill, ensuring that your meal is cooked to perfection. Whether you're a beginner or a seasoned pro, grill mitts are an essential part of any grilling repertoire.
7. Grill apron
There's nothing quite like the smell and taste of grilled food on a warm summer evening. Whether you're a dedicated griller or simply enjoy the occasional backyard cookout, having the right tools can make all the difference when it comes to preparing succulent meats, delicious seafood, and crisp vegetables. One of the most essential grilling accessories is a grill apron. This simple piece of equipment can help to protect your clothing from splatters and stains, while also providing handy storage space for cooking utensils and condiments. What's more, thanks to its soft cotton construction, a well-made grill apron will keep you feeling cool and comfortable even on the hottest days. So if you love firing up the grill in your backyard or at your local park, don't forget to pick up a high-quality grill apron that will help elevate your grilling experience!
8. BBQ sauce
There's nothing quite like the taste of juicy, grilled meats hot off the grill. But even the best-grilled steak or chicken can be made even better with the addition of BBQ sauce. BBQ sauce is the perfect finishing touch to any grilled dish, adding a touch of sweetness and spice. And with so many different varieties available, there's sure to be a BBQ sauce that's perfect for your taste. So next time you fire up the grill, don't forget the BBQ sauce!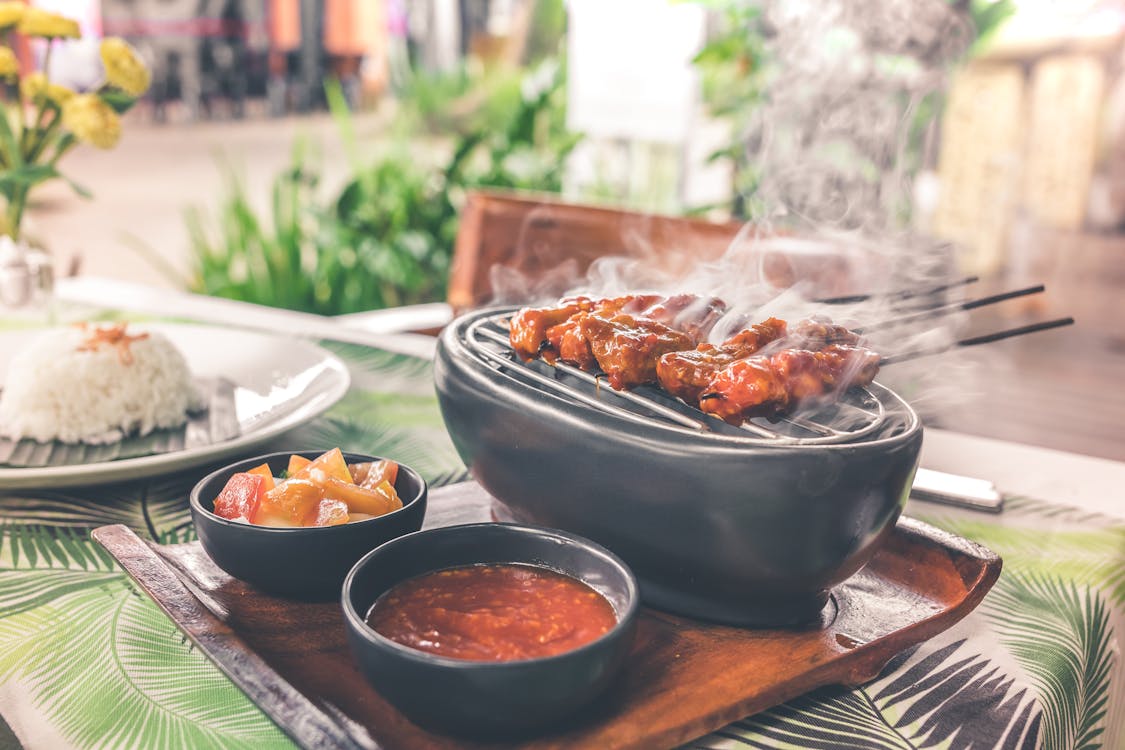 9. Seasoning rubs
Grilling is a great way to add flavor to food, and one of the best ways to do that is with seasoning rubs. Rubs are a combination of spices that are rubbed into the meat before grilling. This helps to lock in the flavors and ensures that they will be evenly distributed throughout the meat. There are many different recipes for rubs, so it is easy to find one that fits your taste. In addition, rubs can be used on any type of meat, so you can experiment with different flavors until you find your perfect match. So whether you are grilling chicken, steak, or pork, don't forget to use a seasoning rub for an extra boost of flavor.
10. Cutting board
A cutting board is an essential tool for any grill master. Not only does it provide a safe and stable surface for cutting meat and vegetables, but it also helps to keep your grill clean. A cutting board with a built-in drainage system can help to catch juices and prevent them from dripping onto the coals, while a board with a raised edge can help to keep food from falling off the side. In addition, a cutting board with handles can make it easier to transport food to and from the grill. Whether you're slicing up steak or chopping vegetables, a cutting board is a handy tool to have on hand.
11. Meat thermometer
Any grill master will tell you that one of the most important tools for success is a meat thermometer. While there are many factors that contribute to perfectly grilled meat, such as temperature, cooking time, and type of fuel, perhaps the most important is ensuring that the meat is cooked to the correct internal temperature. A meat thermometer takes the guesswork out of grilling, ensuring that your steak is juicy and delicious every time. In addition to being an essential tool for grilling success, a meat thermometer can also help you avoid food poisoning. By cooking your meat to the recommended internal temperature, you can kill any harmful bacteria that may be present. So whether you're a beginner griller or a seasoned pro, be sure to add a meat thermometer to your grilling accessories.
12. Digital meat timer
Whether you're a backyard griller or a master grill chef, one of the most important tools in your arsenal is a good digital meat timer. This essential accessory helps to take the guesswork out of cooking, ensuring that your steaks, burgers, and other barbecue favorites are cooked to perfection every time. Not only does it keep track of cook times with pinpoint accuracy, but it also has built-in alarms that let you know when your food is done. And with a wide range of features and settings, there's no meat that this versatile device can't handle. So whether you like your steak medium-rare or well done, don't just take your chances on guessing the cooking time – invest in a quality digital meat timer and make for perfect grilling every time!
13. Charcoal chimney starter
A charcoal chimney starter is one of the best grilling accessories that you can buy. It is a metal cylinder with a wire grate in the bottom and a handle on the side. The idea is simple: you place your charcoal in the cylinder, put some crumpled up newspaper under the grate, and light it. The newspaper ignites the charcoal, and the hot air rising up through the cylinder starts to light the coals from the bottom up. This results in a much more even cook, as all of the charcoal is fully lit and at roughly the same temperature. It also eliminates the need for lighter fluid, which can give your food an off-flavor. A charcoal chimney starter is an essential tool for any grillmaster.
14. Grill basket
One of the best grilling accessories is a Grill basket. A Grill basket is great for cooking chicken, peppers, onions, and kabobs. It allows you to cook multiple items at once and prevents small items from falling through the grates. Plus, it makes flipping and stirring much easier. So if you're looking for a versatile and easy-to-use grilling accessory, be sure to check out a Grill basket.
No matter what your grilling style, these essential accessories will help you create amazing meals all summer long. From grill brushes to thermometers, make sure you have everything you need to cook up a storm this season. And don't forget the most important accessory of all - beer! Enjoy grilling with family and friends this summer!