There is nothing like the taste of food that has been grilled. The smoky flavor makes everything taste better. If you are looking to get into grilling, or want to up your game, here are some tools you need.
1. Grill spatula
A grill spatula is an essential tool for any grill master. This versatile tool can be used for flipping burgers, turning chicken, or even removing hot coals from the grill. The long handle keeps hands safe from the heat, while the sharp edge makes it easy to slide under food. In addition, the sturdy construction ensures that it won't bend or break when exerting pressure. For anyone who loves to grill, a grill spatula is a must-have tool. Whether you're a beginner or a seasoned pro, this versatile tool will help you create perfect meals every time.
2. Grill tongs
When it comes to grilling, one of the most essential pieces of equipment is a good set of grill tongs. Grill tongs make it easy to turn and maneuver foods on the grill without ever losing contact with the food or risking it falling through the grill grates. They are also excellent for transferring foods from the grill to serving platters, making them an essential tool for any cook who loves to fire up the barbecue. Additionally, they allow you to grip smaller-sized or tear-shaped foods without difficulty, giving you more control over your cooking process than regular kitchen utensils would. Whether you're a backyard griller or a seasoned pro, having a set of durable and high-quality grill tongs is an absolute must for all your outdoor cooking needs. So if you're not already using these indispensable tools, now is the time to get yourself some great grill tongs and start impressing all your friends and family with your impressive cooking skills!
3. Grill brush
A grill brush is one of the most important tools you need for grilling. A grill brush allows you to quickly and easily remove burnt-on food, grease, and other debris from your grill grates. This helps to keep your grill clean and prevents food from sticking to the grates. A grill brush also helps to create evenly cooked food by evenly distributing heat. When shopping for a grill brush, look for one with bristles that are made of stainless steel or nylon. These materials are resistant to heat and will not damage your grill grates. Avoid using wire brushes, as they can scratch or damage the surface of your grill grates. When using a grill brush, be sure to scrub in the direction of the grain to prevent damage. For best results, clean your grill grates after each use.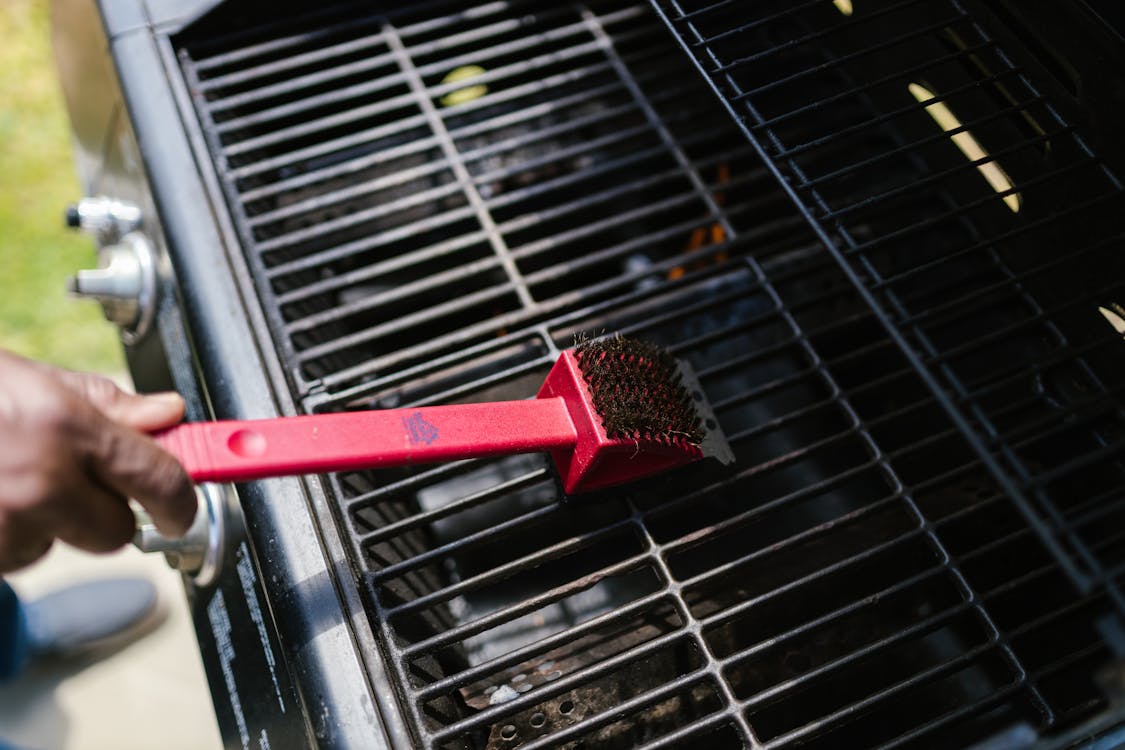 4. Grill fork
A grill fork is one of the most essential tools for any grilling enthusiast. This versatile tool can be used for flipping burgers, turning chicken, or even removing hot dogs from the grill. Made of durable steel, a grill fork can withstand high temperatures and is designed to reach deep into the grill to ensure food is cooked evenly. Whether you're cooking for a small backyard barbecue or a large outdoor party, a grill fork is a must-have tool that will help you serve up perfectly grilled food every time.
5. Apron
There is no doubt that grilling is one of the most popular methods of cooking these days. Whether you're grilling up a few steaks for dinner or throwing together a big batch of burgers for a backyard cookout, there are certain tools that are essential to any successful grilling session. For example, perhaps the most indispensable tool on the grill is an apron. An apron is absolutely crucial for protecting your clothes from grease, splatters, and mishaps with hot liquids and hot coals. Plus, an apron helps to keep you clean and looking sharp as you handle all of your delicious grill master duties. So next time you fire up the grill, make sure to grab your trusty apron before putting those tongs and spatulas to work! After all, there's nothing worse than ruining that perfectly tailored shirt when things get messy on the grill. Go ahead and give your favorite chefs' aprons a try – they're sure to become essential equipment in your grilling arsenal!
6. Grill cleaner
The warmer weather is finally here, which means it's time to break out the grill and enjoy some delicious outdoor cooking. But before you fire up the grill, make sure you have all the essential tools on hand. One of the most important items you'll need is a grill cleaner. A good grill cleaner will help to remove built-up grease and grime, leaving your grill looking shiny and new. It will also help to prevent rust and corrosion, keeping your grill in top condition for many years to come. So before you start cooking up a storm, make sure you've got a trusty grill cleaner by your side.
7. Grill seasoning
When it comes to grilling, nothing is more important than the right seasoning. Whether you are cooking a thick steak or tantalizing chicken kebabs, a good grill seasoning can make all the difference in creating flavorful, succulent dishes. There are many different types of seasonings that can be used for grilling, each with its own unique flavor profile and ingredients. Some popular choices include spicy rubs made with cayenne and paprika, smoky blends of herbs and spices such as oregano and chipotle powder, and bold marinades infused with garlic or soy sauce.
No matter which type of seasoning you choose, using grill seasoning is one of the best ways to take your grilling game to the next level. Not only will your food have rich, nuanced flavors that will impress your friends and family, but you'll also find that grilling is easier and more enjoyable than ever before with well-seasoned meats searing up perfectly every time. So go ahead and stock up on your favorite grill seasonings - they are sure to become an essential tool in your grilling arsenal!
8. Food thermometer
Whether you're a novice griller or an expert pitmaster, a good food thermometer is essential for ensuring that your food is perfectly cooked every time. After all, the only thing worse than undercooked meat is overdone meat! A quality food thermometer allows you to check the internal temperature of anything from steaks and burgers to chicken and fish so that you can avoid dry overcooked cuts or unsafe undercooked cuts. Aside from simply checking the temperature of your food, a good food thermometer can also be used to calibrate the temperature of your grill, helping you achieve optimal results with every cookout. So if you want to take your grilling game to the next level, be sure to pick up a high-quality food thermometer today!
9. Timer
Any experienced grill master will tell you that timing is everything when it comes to grilling. Whether you're cooking up a steak, a burger, or a Vegemite sandwich, the key to success is to keep an eye on the clock. That's why a timer is such an essential tool for anyone who likes to grill. With a timer, you can set the perfect cook time for whatever you're grilling, and then sit back and relax until it's time to eat. No more worry about burning your food or undercooking it - just set it and forget it. So next time you fire up the grill, make sure you have a timer on hand - it just might be the difference between a delicious meal and a disaster.
10. Propane tank
When it comes to grilling, few things are more essential than a good propane tank. These cylinders of pressurized gas provide the heat necessary for cooking up delicious steaks, chicken, and burgers on the grill. Moreover, propane tanks are versatile tools that can be used for all kinds of outdoor activities, from camping and bonfires to backyard tiki parties. So if you love spending time outdoors with family and friends, be sure to keep a reliable propane tank at the ready! Whether you're settled in around a roaring campfire or getting your grill going for a classic summer barbecue, this dependable fuel source will ensure that your time spent outdoors is always full of fun and flavor.
11. Charcoal chimney starter
As any experienced griller knows, one of the most important tools for a successful cookout is a charcoal chimney starter. This simple device allows you to light charcoal quickly and evenly, without the need for lighter fluid. Simply place your charcoal in the chimney, stuff some newspaper into the bottom, and light it. The draft from the chimney will cause the charcoal to ignite evenly, and in just minutes you'll be ready to start cooking. A charcoal chimney starter is an essential tool for any grillmaster, so be sure to pick one up before your next cookout.
12. Charcoal
When it comes to grilling, few things are more essential than charcoal. This black, porous substance has long been prized for its ability to generate intense heat and add a deliciously smoky flavor to whatever you're cooking. Plus, charcoal is incredibly versatile; it can be used for everything from searing steaks and burgers to roasting vegetables and smoking salmon or pork. Whether you're an experienced griller or just starting out, having a good source of quality charcoal on hand is an absolute must-have for any grill master. So the next time you break out your barbecue, make sure you have plenty of this indispensable grilling fuel on hand!
Whether you're a beginner or an experienced grill master, these essential tools will help you create amazing grilled food that everyone will love.