Grilling is a summer tradition that just about everyone enjoys. Burgers, hot dogs, chicken, and steak all taste great cooked on a grill. So, what's the best grill for you? There are so many different types and brands of grills on the market that it can be tough to decide which one to buy. In this blog post, we will discuss the different types of grills available and help you choose the right one for your needs. Happy grilling!
Gas Grill
Gas grills are a popular choice among outdoor chefs for a number of reasons. The most important advantage of gas grills is their quick and efficient heating capabilities. Gas grills heat up quickly, allowing you to start cooking your food right away. Plus, they retain heat well, helping to keep foods warm even after they have been taken off the grill. Another great thing about gas grills is their portability; many models are designed to be easily moved around, making them the perfect choice for camping trips or other outdoor adventures. And because gas grills typically don't require any kind of assembly, they are also quite simple to use. Whether you're an experienced chef or just starting out in the kitchen outdoors, a gas grill is sure to be a great choice for your cooking needs!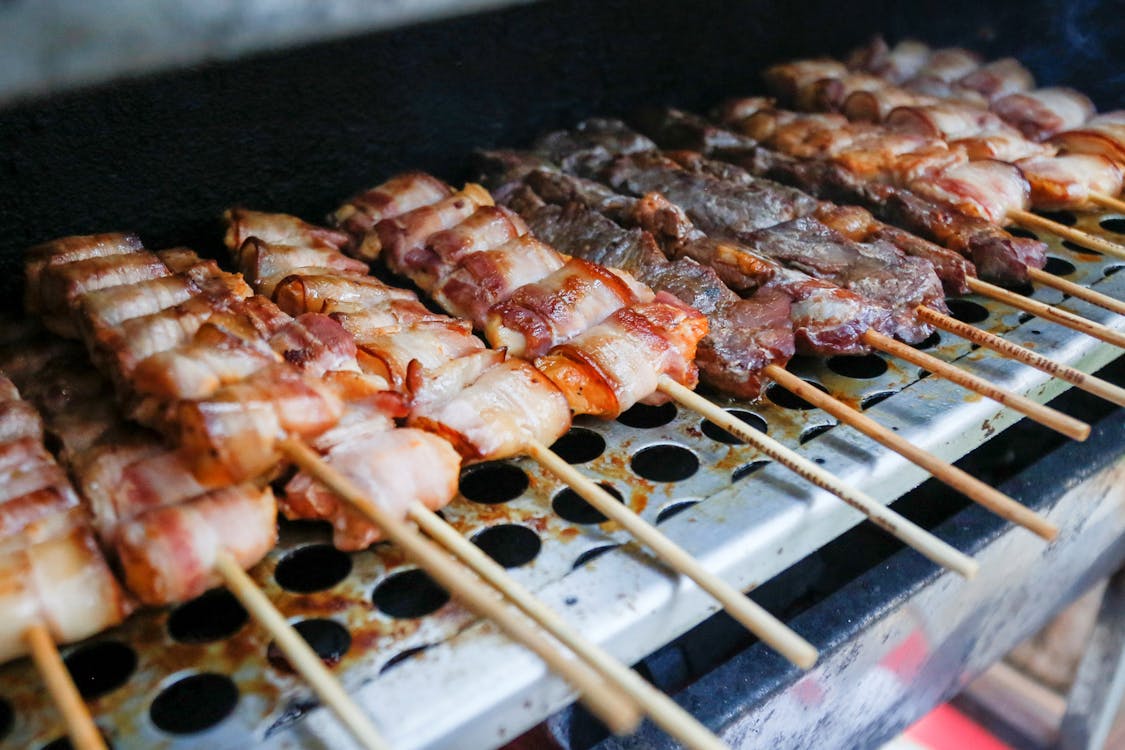 How to cook on a gas grill?
The great thing about grilling is that there are endless possibilities when it comes to what you can cook. Whether you're looking to grill some veggies or cook up a juicy steak, a gas grill is a perfect way to get the job done. Here are a few tips on how to grill on a gas grill:
Start by preheating your grill. This will ensure that your food cooks evenly.
Use the right type of cooking oil. For grilled foods, you'll want to use an oil that has a high smoke point, such as canola oil or grapeseed oil.
If you're grilling meat, make sure that it's properly seasoned. Seasoning your meat with salt, pepper, and other spices will help to enhance its flavor.
Be careful not to overcook your food. Gas grills tend to heat up quickly, so it's important to keep an eye on your food so that it doesn't get burnt.
By following these tips, you'll be able to master the art of grilling on a gas grill in no time!
Best foods for gas grill
When it comes to grilling, there are a few things that are essential: good weather, good company, and of course, good food. While there are endless possibilities when it comes to what to grill, certain foods are better suited to a gas grill than others. For example, meats that are high in fat content can cause Flare-Ups, so leaner cuts of meat are best. Firm vegetables like potatoes and onions can also stand up to the high heat of a grill, whereas softer vegetables like tomatoes may become mushy. As for fruits, thick-skinned fruits like pineapples and melons can be grilled without much hassle, but thinner-skinned fruits like grapes should be avoided. So whatever you're in the mood for, make sure to choose the right food for your gas grill. You'll be sure to impress your guests with your grilling skills - and your delicious food!
Charcoal Grill
Charcoal grills are a popular type of grill for many home cooks and outdoor enthusiasts. Unlike other grilling options, such as gas or electric grills, charcoal grills rely on the traditional method of cooking with hot coals to create delicious smoky flavors in food. This unique process requires some special considerations when using a charcoal grill, but it is also one of the most rewarding ways to cook meat and veggies. Whether you're an avid griller or simply looking for a new cooking method to try, there's no doubt that a charcoal grill is an excellent choice for adding flavor and versatility to your culinary repertoire.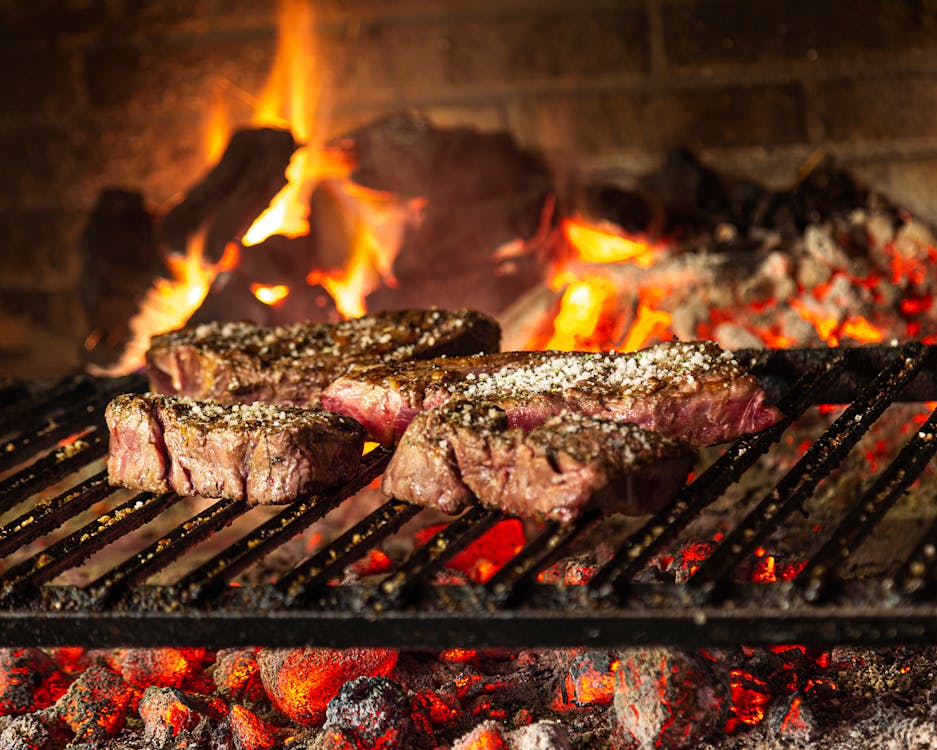 How to cook on a charcoal grill?
For those who love grilled meats and veggies, there's nothing quite like cooking over a charcoal fire. Grilling on a charcoal grill is easy once you learn the basics: first, you'll need to build a nice hot fire using chunks of hardwood or briquettes. Depending on what you're cooking, you may also want to set up your grill with a range of different cooking zones, so that you can move food from direct high heat over to cooler indirect heat when it's finished searing on one side. Once your grill is ready, simply add your food and cook until it reaches the desired level of doneness. Then, all that's left to do is sit back and enjoy all that delicious smoky flavor! Whether you're grilling steaks, burgers, seafood, or veggies, having a charcoal grill is sure to elevate your grilling experience. So go ahead and give it a try – the perfect grilled meal is just around the corner.
Best foods for charcoal grill
Whether you're cooking a juicy steak, plump burger, or sweet summer vegetables, the distinctive taste of an open flame adds an element of deliciousness that simply can't be replicated. But what are the best foods to use when grilling with charcoal? Of course, everyone has their own preferences, but in general, some of the best choices for grilling include lean cuts of meat, such as flank or skirt steak. Seafood can also be a great option for grilling on an open flame, as it cooks quickly and is easy to infuse with bold flavors from your marinade. Finally, any number of summer vegetables can be delicious when grilled to perfection over hot coals – try sweet corn, sliced peppers and onions, or ripe tomatoes for a healthy veggie side dish that's perfect for any barbecue. With just a few simple ingredients and a little time on the grill, you can turn any meal into an outdoor culinary masterpiece!
Electric Grill
Electric grills are a popular choice for those who enjoy the taste of grilled food but don't want to deal with the hassle of charcoal or propane. These grills use electricity to heat a metal plate, which in turn cooks the food. One advantage of electric grills is that they can be used indoors, making them a good choice for those who live in apartments or other places where open flames are not allowed. Electric grills also tend to be very user-friendly, with many models featuring adjustable temperature controls and removable plates for easy cleaning. However, electric grills can be more expensive than other types of grills, and they may not provide the same level of flavor as charcoal or propane grills.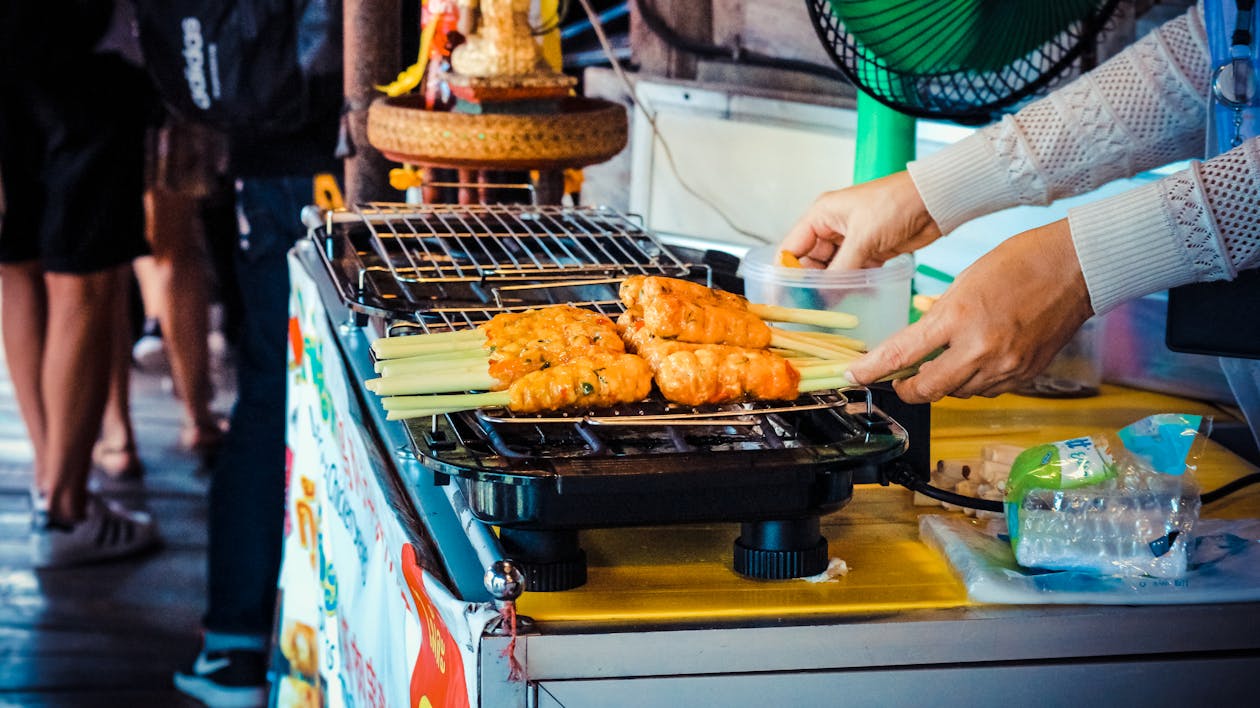 How to cook on an electric grill
To grill on an electric grill, the first step is to choose your ingredients. The key to good grilling is having a balanced combination of flavors, so try to choose a variety of different meats and vegetables. For best results, marinate the ingredients in your favorite sauces and seasonings for at least an hour before putting them on the grill.
Once you have assembled your ingredients, preheat the electric grill to medium-high heat. This will help ensure that everything cooks evenly and gives your food a nice seared crust. Remember that electric grills operate at lower temperatures than traditional gas or charcoal grills, so be sure to keep a close eye on your food as it cooks. Flip foods regularly using a pair of tongs, taking care not to pierce them with sharp utensils or metal skewers. And most importantly, don't forget the finishing touch: Once your food is cooked to perfection, top it off with some delicious sauces and seasonings for some added flavor! Whether you're cooking up juicy burgers or delicious grilled veggies, there are endless possibilities when it comes to grilling with an electric grill. So why not fire up that shiny new appliance and get ready for a summer full of delicious grilled goodness?
Best foods for electric grill
When it comes to cooking over an open flame, nothing is quite as delicious or satisfying as grilling food. Whether you prefer meats like steak and chicken, or vegetables like corn and zucchini, there's no doubt that grilled food has a deeper, richer flavor than any other method of cooking. However, if you don't have access to a gas or charcoal grill at home, it can be difficult to get that same smoky flavor in your meals. But with the right equipment and ingredients, it is completely possible to create amazing grilled food on an electric-powered grill.
Some of the best foods for grilling over electricity include dense cuts of meat like pork chops and steak. These are typically tough cuts that require long cook times and steady heat from below in order to break down the collagen into a tender texture. Electric grills are perfect for these kinds of slow-cook foods since they too need a lower heat setting in order to minimize burning. Another great option is using your electric grill for delicate veggies like baby spinach leaves or thin slices of zucchini. Just toss them lightly with olive oil on a metal rack coated with foil before adding them to your grill pan. They'll come out hot, crispy, and deliciously healthy! And last but not least, don't forget about fruits! Thick slices of pineapple or peaches are a great way to add a touch of sweetness to your grilled meal.
Whether you're in the market for a charcoal grill, gas grill, or electric grill, we hope our guide has helped you make an informed decision. No matter which grill you choose, we wish you happy grilling.
Make sure to visit our catalog for cool grilling accessories!